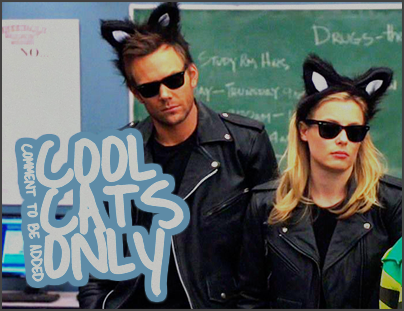 made by me!

Anyway, please to be leaving a comment here if you want access and, depending on if I know you or our interests match up, I'll probably friend you back. I was once upon a time known by the name la_conquistador but this is no longer. Figured it was time to show myself as I am. That weird person in the corner. I have a graphics community that I post to:
stealthe_world. I'll update that as often as I can. As of this point in time it mostly consists of 20in20 icon challenge graphics, but I'll get back into the swing of things at some point.

I'm a member of two HP sorting comms:

hogwartsishome. Sorted Gryffindor.

hogwarts_elite. Sorted Gryffindor.


Supernatural is my drug of choice, followed closely by Harry Potter, Doctor Who, Sherlock, Psych, 30 Rock, The Daily Show (props to you JStew!), Modern Family, It's Always Sunny in Philadelphia, Breaking Bad, New Girl, Justified, Archer, Workaholics, ANTM (ngl deal.), Project Runway, about another 50 shows I'm forgetting, and anything in which I can find Joel McHale. LOVE Community, specifically Abed (ilu Danny Pudi!) and Troy. I fangirl over both Jensen Ackles and Misha Collins (have I mentioned lately I'm the Misha Collins of lj? lol). I love classic rock music (and love it even more when they play it on Supernatural) and the author Chuck Klosterman.

Have jumped aboard the Neil Gaiman fanbus and love it. Read anything he's written. You'll love it. Trust me. To add to that, Anthony Bourdain. He's superb. Superb. Kitchen Confidential is something you cannot put down and No Reservations on Travel Channel is an awesome watch. And again, ASoIaF by George R.R. Martin like whoa. That shit is crazy. I busted through those books like they were cake, and I love cake. Game of Thrones on HBO is also amazing and should be watched by everyone. :D

I join and participate almost every 20in20 I can get my hands on, and by almost every I mean just the ones where I can pick what I want so I can make what I want. Plus anything Sherlock and/or Benedict Cumberbatch. Yeeeeaaaaah.





(

stamped!Collapse

)
Current Mood:
good